NOTICE TO NEW MEMBERS!
Before doing anything, please fill out the form in the

Starter Pack Bonus

thread!
(You can find it by going to "Information Desk" and then clicking the thread titled "Starter Pack Bonus".)

You

will not

be able to play the games, trade with others, take from updates, etc. until after you've been moved from the Pending section on the Members List!
Search found 368 matches
by Rosenel

Mon Nov 06, 2017 7:56 pm
Forum: Team 3 Headquarters
Topic: Team Ranking Rewards
Replies: 14
Views: 1745
Limited Edition Coupons: deckrequest, deckrequest, deckrequest, 2deckdonations, 2deckdonations
Regular Coupons: donatespecialdeck x5

Sorry I'm so late!
by Rosenel

Sun Sep 17, 2017 1:23 pm
Forum: Card Collectors
Replies: 20
Views: 2154
madokaamahane09
by Rosenel

Sat Sep 16, 2017 6:40 pm
Forum: Swap Pot
Topic: Swap Pot 012.5
Replies: 18
Views: 1673
akatsukilh14 for dressup18
by Rosenel

Sat Sep 16, 2017 4:45 pm
Forum: Encore
Topic: Encore 028
Replies: 27
Views: 2708
Encore 028
: waltercdornez18, maeshughes20, alexbenedetto12, integrahellsing04, ritsukaaoyagi07, fayevalentine09, witches08, mitsurukirijo12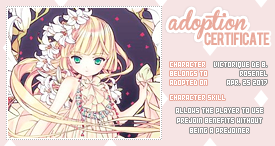 by Rosenel

Sat Sep 16, 2017 3:33 pm
Forum: Collaboration
Topic: Collaboration 018 [FULL]
Replies: 31
Views: 2956
Donation #: 1 Featuring: Clover (CLAMP) ft. Oruha and Suu Image: here Specifications: None I only see two characters in this image but the way I read your description of the image is that there should be three so I'm not sure... Could you clarify this for me? I have this donation listed as "CLAMP -...