NOTICE TO NEW MEMBERS!
Before doing anything, please fill out the form in the

Starter Pack Bonus

thread!
(You can find it by going to "Information Desk" and then clicking the thread titled "Starter Pack Bonus".)

You

will not

be able to play the games, trade with others, take from updates, etc. until after you've been moved from the Pending section on the Members List!
---
---
yozorakasumi13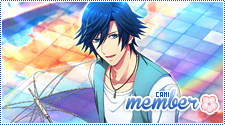 ♫ sexy sexy want to do it ♫
★☆
card post
//
forum trades
☆★
---
゚*。Glitter Queen 。* ゚
Posts: 2837
Joined: Tue Apr 25, 2017 3:07 pm
Location: Missouri, USA
Contact:
Here are the rewards for everyone who participated in this round! Don't forget to remove the cards you donated to this deck from your post, too!
KAYORI (x6):
SakuraFes Card Collectors 013 (Complete):
xday13, yukaritakeba05, onpusegawa14, altera04, landoffairies08, kazahayakudou15
CAMI (x3):
SakuraFes Card Collectors 013 (Complete):
suzuyatohzuki15, naokamiya20, alexanderanderson05
CASSIDY (x1):
SakuraFes Card Collectors 013 (Complete):
farside18
HAYLEE (x5):
SakuraFes Card Collectors 013 (Complete):
tokiyaichinose19, megumitadokoro18, tragiclove09, akihikousami17, lettucemidorikawa06
JULES (x2):
SakuraFes Card Collectors 013 (Complete):
suu03, georgekoizumi02
MIO (3):
SakuraFes Card Collectors 013 (Complete):
anastasia05, gintokisakata07, lucyheartfilia03
---