NOTICE TO NEW MEMBERS!
Before doing anything, please fill out the form in the

Starter Pack Bonus

thread!
(You can find it by going to "Information Desk" and then clicking the thread titled "Starter Pack Bonus".)

You

will not

be able to play the games, trade with others, take from updates, etc. until after you've been moved from the Pending section on the Members List!
shuukuga13
---
---
Mobage Support & Expert
Posts: 6938
Joined: Sun Jan 31, 2016 4:40 am
Location: ♡ idol hell ♡
Contact:
akanehino02!
---
ohanamatsumae11
---
eschamalier12
---
rainbowpearls10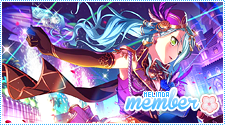 hey! come trade with me!
---
---
nilsside17
---
erinanakiri13
---
---