NOTICE TO NEW MEMBERS!
Before doing anything, please fill out the form in the

Starter Pack Bonus

thread!
(You can find it by going to "Information Desk" and then clicking the thread titled "Starter Pack Bonus".)

You

will not

be able to play the games, trade with others, take from updates, etc. until after you've been moved from the Pending section on the Members List!
---
aliceinwonderland05
---
darkmousy13
blasphemy
---
yuikomori20
you're all too fast for me xd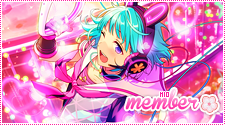 PROFILE ★ TRADE POST ★ MATSURI

---
゚*。Glitter Queen 。* ゚
Posts: 2910
Joined: Tue Apr 25, 2017 3:07 pm
Location: Missouri, USA
Contact:
ichigohoshimiya18
Trade Post
Laptop is currently out of order ;;;;;;
---
akarimizunashi16
Fight me!
That took me 5 tries ;_;
---
inuyasha06
---
alphonseelric03
gotta go fast
---
---
゚*。Glitter Queen 。* ゚
Posts: 2910
Joined: Tue Apr 25, 2017 3:07 pm
Location: Missouri, USA
Contact:
aliceinwonderland18
Trade Post
Laptop is currently out of order ;;;;;;
---