NOTICE TO NEW MEMBERS!
Before doing anything, please fill out the form in the

Starter Pack Bonus

thread!
(You can find it by going to "Information Desk" and then clicking the thread titled "Starter Pack Bonus".)

You

will not

be able to play the games, trade with others, take from updates, etc. until after you've been moved from the Pending section on the Members List!
Re: Card Shiratori 042
aliceinwonderland13
---
darkmousy18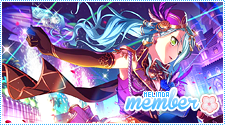 hey! come trade with me!
---
The Arctic Rose
Posts:1090
Joined:Sun Sep 04, 2016 2:43 am
Location:Missouri, United States
Contact:
yuuseifudo04~
Last edited by
Kayori
on Mon Aug 28, 2017 1:33 pm, edited 1 time in total.
---
---
゚*。Glitter Queen 。* ゚
Posts:2919
Joined:Tue Apr 25, 2017 3:07 pm
Location:Missouri, USA
Contact:
Thanks for playing, everyone's rewards are below, don't forget to remove the cards from your site that used in this round! [Names aren't in alphabetical order so feel free to CTRL+F your name to make finding it easier!]
AMBER (x21):
Card Shiratori 042:
ashura09, syokohoshi12, minorikushieda20, hayatoaozora10, harukashimazaki8th11, natsudragneel04, simca13, mokona12, czarodziej16, starrynight17, lokilaevatein13, himenoawayuki12, yuunishinoya12, randymaclean17, aijiyanagi01, musiclessons15, yona17, midoritakamine03, red07, sora13, harukashimazaki8th04, newleafsummer11, enemyvessels04, mikleo04, pipbernadotte20, anisyamamoto09, sango11, inspring16, pastelcandy10, alicenakiri18, asukaninomiya10, sango01, nilsside18, dragonsong02, vocalists15, sheeta01, syokohoshi11, himenoawayuki14, simca13, sleepover13, groceryshopping18, renjinguji04
JESSICA (x17):

Card Shiratori 042:
lucyheartfilia02, kanatosakamaki10, orpheus10, ichigomomomiya02, mariacadenzavnaeve20, underwaterswimming06, reinakousaka05, rom01, marcobodt02, shizumamayuzumi17, sora13, kyouyaootori06, naotoshirogane08, yoshikotsushima16, fuumamonou19, rinafujimoto13, makinishikino17, juliusvisconti12, veryseriousfaces11, hiromiyuasa07, tamakisuou15, shouyouhinata07, popsong20, azura19, shizumamayuzumi09, espeon14, rankalee06, altera06, rainbowpearls17, loveaquarium18, wataruhibiki19, yuukicross16, undertaker14, setsunameiou02
KAIRI (x3):
Card Shiratori 042:
ohanamatsumae20, shootingstar14, haremenjou01, iwasamecafe14, ignisscientia08, melona01
MELINDA (x17):
Card Shiratori 042:
natsukihashiba05, hajimemutsuki10, fumikasagisawa04, nozomitojou07, butterflies18, guts08, yourname14, miraikuriyama04, yumamukami03, akarimizunashi09, aliceinwonderland05, closeup09, magicianscourt17, sakuramatou02, rom15, doremiharukaze06, illyasvielvoneinzbernprisma20, akatsukilh07, chiakimorisawa17, hiromiyuasa12, maronkusakabe02, tsubaki07, gintokisakata05, jeankirstein02, sayakonohana11, westwardjourney13, mercedes09, gamushararomantic18, twodudesinaforest06, shuitsuki13, chihayakisaragi15, ryoumaichijou18, pazu14, mikakagehira18
SANA (x1):
Card Shiratori 042:
harukashimazaki8th07, relaxingwithnorsegods18
YASU (x12):
Card Shiratori 042:
kent17, fredericamiyamoto05, tsubaki08, taigakagami14, sora01, hopeitself19, orpheus05, ryokohakubi07, saruhikofushimi13, akiizayoi18, deities03, kagomehigurashi17, soushimiketsukami09, serena12, gokuson19, shuuouma13, mercedes20, hisokamorow15, akanehino08, azura19, aikasgranzchesta03, jeannedarc19, aikasgranzchesta10, company01
KAYORI (x19):
Card Shiratori 042:
makototachibana09, euphemialibritannia19, yukitotsukishiro09, emilia08, ascension11, nozomiyumehara20, reihino10, tsukumogami305, sebastianmichaelis09, musiclessons16, red06, mimorikishida03, puddingfong13, nepgear17, mai07, yuriplisetsky03, mimorikishida15, magenanashiro06, bayonetta17, asukatenjoin01, hinatahyuuga13, nobuchikaginoza16, victorianball12, utauhoshina12, trainingcampsleepover19, manakamukaido16, stevenstone02, intheclouds14, simca01, mitsukunihaninozuka15, cutejewelries00306, sawakokuronuma01, mionsonozaki19, cooljewelries00303, gintokisakata19, yuikomori03, bluewolfsrain03, starrynight15
---